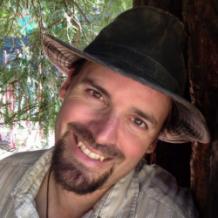 Erik Ohlsen
Erik Ohlsen is a licensed contractor, founder, and owner of Permaculture Artisans, an ecological farm and landscape company.
Erik is a renowned certified permaculture designer, and certified permaculture teacher and has been practicing permaculture and ecological design since 1998 when he co-founded his first non-profit called Planting Earth Activation. This charitable organization designed and installed community gardens in northern California for public and private use from 1998-2001.
In the field of ecological land development and management, Erik has extensive experience with projects that range from small urban lots to 100+ broad-acre design and implementation. His many years of experience, observation, and listening of landscape patterns, managing installation crews and design teams, and his understanding of ecology make Erik a leader in the field of ecological landscape development.
Erik's design and field experience comprise of a huge variety of skills including farm design and implementation, water harvesting/storm water management, erosion control, extensive earthwork operations, heavy machine operation, irrigation systems, ponds, food forests/orcharding systems, native plant systems, wildlife habitat enhancement, integrated pest management, microclimate moderation, roof water catchment systems, sustainable forestry, soil building, vermaculture, hardscape design and implementation, client relations, project management, and more.
Erik has an innate ability to integrate a variety of disciplines into a holistic framework through facilitation of diverse groups of individuals and professionals. This skill is why many organizations and professionals in related fields to permaculture want to work closely with permaculture artisans to achieve excellence in their projects while benefiting entire ecological systems and communities.
Erik has been teaching permaculture design and implementation since 2001 and is known in Northern California as a premier teacher of permaculture. His engaging, energetic, do-it-yourself teaching style has captivated hundreds of permaculture students from all over the world.
Erik has taught courses in permaculture and related subjects throughout the United States, Canada, and the United Kingdom. He currently teaches with the Earth Activist Training, the Regenerative Design Institute at Commonweal Garden, and with The Occidental Arts and Ecology Center.