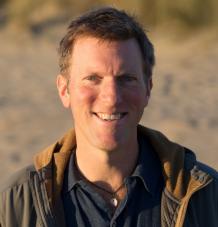 Scott Davidson
Scott Davidson has a passion for wilderness, both surrounding and residing within us, and our ability to live fully in connection to the land. As a long-time educator, designer, and naturalist, he nurtures the genius in each of us, one relationship and curiosity at a time.
Scott is an experienced conservation biologist and has a bachelor's degree in plant ecology from University of California Santa Cruz. He earned a permaculture design certificate through the Regenerative Design Institute at Commonweal Garden and is a certified animal tracker with CyberTracker Conservation. Scott currently manages the Organic School Lunch and Gleaning Program with Marin Organic, powerfully connecting kids to thriving soils each week. He is a co-founder of the Marin County Tracking Club and Permaculture Marin.
Scott is stoked to live in the wild hills of Lagunitas, California, where he loves holistically tracking mountain lions and songbirds. Scott's playful and wise presence and his sound commitment to his work for future generations radiates Aloha into everything he does.