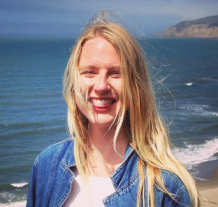 Sarah Walker Scheld
Sarah Walker Scheld is an eco-somatic counselor, educator, and program coordinator at the Regenerative Design Institute.
Prior to migrating to the West Coast in 2013, she was raised by the forests and streams of rural Virginia, and then spent many years in New York City working as a filmmaker and art director, often infusing her design work with inspiration from the wonders of the natural world.
Sarah graduated from the California Institute of Integral Studies (CIIS) with a Master's degree in East-West Psychology, where her research and practice focused on the creative synthesis of entheogenic shamanic practice with Western psychotherapy, and on harnessing the transformative potential of psychedelic psychotherapeutic work for social and ecological justice.
She is a practitioner and ongoing student of the Hakomi method, a form of experiential, mindfulness-based somatic therapy. Having graduated from the Hakomi Comprehensive Training in 2015, she now frequently assists as well as organizes Hakomi workshops, helping others learn the method, and weaves Hakomi's integral approach to healing and learning into her work with both individuals and with groups.
Her work weaves together deep nature connection, body-centered psychotherapy, and relational meditations. She specializes in working with survivors of trauma, helping people feel at home and empowered in their bodies. She is passionate about investigating the relationship between trauma and systems of oppression, as well as ecological devastation, and strives to help individuals find the resources within themselves to engage in both personal and cultural change.
A lifelong lover of animals, her observations of wild animal behavior deepen her understanding of human biological responses and the human body's capacity to self-regulate and heal, and she is grateful to be able to take frequent walks with full-bred wolves, who she considers her teachers in presence.
She is inspired and supported by being embedded in the natural world, and is endlessly overjoyed to reside in the Commonweal Garden, to continue to grow through tending the land and to be able to share this sanctuary with others.