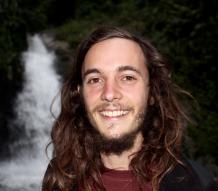 Robin Liepman AKA Bloom
Bloom (Robin Liepman) is a permaculture designer, event/project organizer, earth activist musician and new paradigm pollinator. Bloom was born in San Luis Obispo, California, went to University of California Santa Cruz with a degree in Psychology and Cognitive Science, and then began traveling the world, starting in Central America, contributing to transformational festivals, conferences, and permaculture farms. He then went on a spiritual pilgrimage through Peru and Bolivia, re-visited Costa Rica, and then went to Vancouver Island in Canada for his Permaculture Design Course/Earth Activist Training with Starhawk and friends. Bloom then co-founded and co-organized the "Blooming Biodiversity" permaculture tour www.BloomingBiodiversity.org, which in the Fall of 2015 with his partner Anahata. With a team of Solutionaries, they toured the North American West Coast. It was a journey of healing the world through holistic integrative permaculture activations worldwide. The tour has taken him to through many of the United States, Canada, Hawaii, Peru, where he was planting gardens and working with Shipibo children through the Arkana Alliance organization, and to Bali.
Bloom's mission in life is to help re-weave the dream of the modern world into a vibrant, harmonious, regenerative and equanimous existence, and to help both aspiring and seasoned change-makers live at their optimal potential. He is dedicated to co-creating solutions to global challenges, and actively actualizing avenues for vibrant existance to unfold.
Website Links
Permaculture Music Bloomsounds
Facebook Page: Blooming Biodiversity Permaculture Tours https://www.facebook.com/BloomingBiodiversityPermacultureTours/
Facebook Group: Blooming Biodiversity Community https://www.facebook.com/groups/BloomingBiodiversityCommunity/
Facebook Page: Liberated Heart Yoga https://www.facebook.com/liberatedheartyogabodywork/