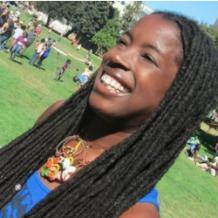 Pandora Thomas
Pandora Thomas' life and work is rooted in creating a world where all people have access to empowering and hands on environmental education experiences. She is passionate about deepening her and others connection to the natural rhythms of our earth in order to heal our communities.
She is co-founder of Earthseed Consulting LLC, a holistic consulting firm whose work deepens the impacts of environmental advocacy in the lives of diverse communities. Most recently she led a group of youth on a cultural exchange to Indonesia for an environmental leadership program, as well as having co-created and directed the Environmental Service Learning Initiative based in five San Francisco schools. Both programs aim to reconnect youth to the environment using innovative strategies.
Her education has sought to link issues such as global affairs, women's rights, the environment and sustainability, racial justice, and youth empowerment. She studied at Columbia University's School for International and Public Affairs, Teachers College, and Tufts University.
She is a credentialed multiple subjects teacher, a naturalist and outdoor education instructor, as well as a certified green building professional and permaculture teacher who has created and delivered curriculum to pre-kindergarden through adult international audiences around multiple themes including human rights, environmental justice, and outdoor and environmental education. She has lectured extensively around issues of social entrepreneurship, diversity, women's leadership, the environment, and human rights. Her writing includes a children's book, various curricula, and a green-building manual for youth.
She has studied and lived in more than ten countries and some of her other achievements include presenting at TedX Denver and San Francisco, being awarded fellowships to Columbia University Human Rights Program and Green For All's Green Fellows Program. Her volunteer work includes serving as a Global Peer to four Nigerian women working to bring safe water technology to their communities and co-facilitating an environmental literacy course with the men of the Green Life Program in San Quentin.