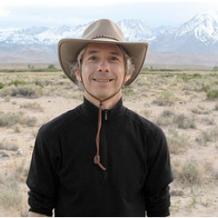 John Brossard
John Brossard has studied tracking intensively for over ten years with mentoring from Jon Young through the Institute of Nature Awareness, Integral Awareness Training Series, Shikari Mentoring Services, and the RDI at Commonweal Garden's Native Eyes Nine Month Intensive. He has learned intensively with Mark Elbroch and Casey McFarland through the North American CyberTracker evaluation system and is a certified Track & Sign Specialist by CyberTracker International (www.trackercertification.com). He was a co-founder of the Marin County Tracking Club, and has co-led the Tracking & Nature Connection Series with Scott Davidson for six years.
John is also a graduate of RDI's Ecology of Leadership program. He is a leader and teacher in his work as Personnel Manager at Good Earth Natural Foods.
John brings a deeply felt, lifelong relationship with nature to tracking. John's tracking journey has been largely in a community setting, which he feels is one of the most effective ways to learn tracking. His desire is to He is inspired by a holistic view of our place in nature and the cosmos, as well as increasing our consciousness of who we truly are in a deeper sense. His desire and approach is to promote a high level of skill in tracking as a path to greater intimacy and connection with nature, so we can become more in touch with the physical and numinous source that it is. He holds a vision of all of us growing into strongly connected, nature-based communities who are able to revere, regenerate, and beautify our land and our world.