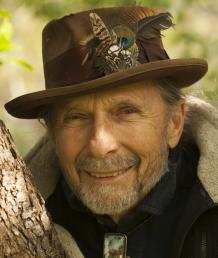 Blog Posts by James Stark
James Stark
James Stark, M.A., F.E.S., is the co-director of the Regenerative Design Institute (RDI). He considers the programs in a garden to be a nursery for growing visions of the new era, and providing skills and tools to bring those visions to life. He co-founded and currently co-directs the Ecology of Leadership program, preparing community leaders for the "Great Turning" of our era and the Art of Vitality program with Anna O'Malley MD the co-director and co-founder - creating pathways to vitality. He also co-founded and instructed the Ecology of Awakening program.
James has committed his life to exploring how we — ourselves, our communities, and our species — might move into harmony with our true nature and re-ignite a deep connection with the rest of the natural world - we are nature. A large part of that work is focused on cultivating vitality in all areas of our lives -physical, mental, emotional and spiritual.
For decades, James dedicated himself to community visioning, organizing and promoting community as medicine in Marin County.
As part of that community work he co-founded the following organizations:
West Marin Growers Group (WMGG), which was created to ensure food security in Marin County. WMGG grew into the 5013c, Marin Organic, which introduced the Marin Organic Food Label.
Waste Free Now, which is committed to West Marin becoming waste free and hosts the innovative annual Recycle Circus including a "Stuff Exchange" for people to redistribute community resources.
KWMR "Watershed Radio," which is a licensed 501c3 community radio station in the tenth year of providing a voice for West Marin residences and heard around the world live through web casting.
CLAM — Community Land Trust Association of Marin, an affordable ecological housing land trust (5013c) created to provide affordable housing in the face of increasing gentrification.
James' years working with visioning and community development service led him to an interest in exploring how a healthy inner ecology can impact one's work in the world. As part of that inquiry, he earned a master's degree in Spiritual Psychology from the University of Santa Monica. Like the natural systems and patterns that guide permaculture, his work now is focused on helping others to lead from the inside out and source their lives from deep nature connection. He believes that creating a loving, peaceful inner world provides the soil for the seeds of our visions to grow in the world and lead a fully expressed life of vitality.
Other Community Activism
James served two consecutive board terms on the West Marin Chamber of Commerce, the Permaculture Credit Union and the Center for Responsible Tourism.
He served on steering committees for West Marin's county supervisor dealing with waste and affordable housing issues and also served on the Built Environment Working Committee charged with updating the county-wide plan of Marin County. He has presented at conferences around the world including as the opening keynote speaker at the annual conference of naturopathic physicians in summer 2009 and spoke at the INK conference in India in 2012.
Testimonials
James, you presented so much wisdom, groundedness and a really strong presence for me. Your words travelled straight into my heart so often and helped me and others to feel understood and in connection. You are very generous, accepting — a big heart. —JB

You, James, are a true leader because you set such a great example in your service path. I love your shared insights, your sense of humor, grace, and ease. —LR

James, you are very warm and loving, eloquent with sharing your own journey and getting us to see our selves in universal terms. Loved your personal encouragements and reflections during deep sharing. —SB

James, you are a strong, gentle sweet Uncle Oak tree providing soil structure, shade, and habitat for all of us. —VC

A model for me of graceful living. —PH

Thank you, James. It is your voice and vision that has struck a deep chord in me when I first met you on the farm. And what a beautiful place of transformation you have created for the Mother to reconnect with her children. —ED

James — our village elder — you are a true visionary who provides such a safe space for all of us to explore, learn, and grow. It has been a privilege to be in your presence —much love and gratitude. —CC